STUDIO FACILITIES
Our poles are 38mm spinning and static brass poles. All poles are designed for professional pole dancing. Refer to the studio description below on the type of poles available during pole practice.
BRASS POLES
If you have pole danced before, you will know how important your gripping ability becomes when you are trying to master tricks and transitions. Due to its fantastic absorbent qualities, brass pole skins offer the dancer the ultimate grip - you can get no better!
Imported from Australia, The Pussycat Poles are hand polished, genuine brass - no coatings! The greatest benefit of brass pole skins is they allow you to perfect your tricks quicker, with better form, and more confidence, as you spend less time worrying about slipping.
Our team of experienced instructors previously, from Bobbi's Pole Studio Singapore are a fun and friendly bunch of girls who love nothing more than helping our students move out of their comfort zones to reach new heights (literally too). More than just about improving fitness levels, we're interested in seeing your confidence grow and watching you shine. Being there for our students, witnessing them in their element and exceeding personal expectations, those are the real rewards for us.
HOT OFF THE PRESS
*Chosen as one of the Singapore Night Festival 10 Homecoming Artists in 2017
*The Brass Barre produces the first Pole dance production of it's kind at The Victoria Theatre in January 2018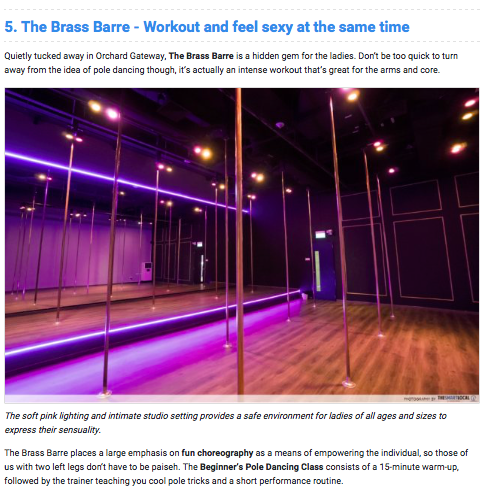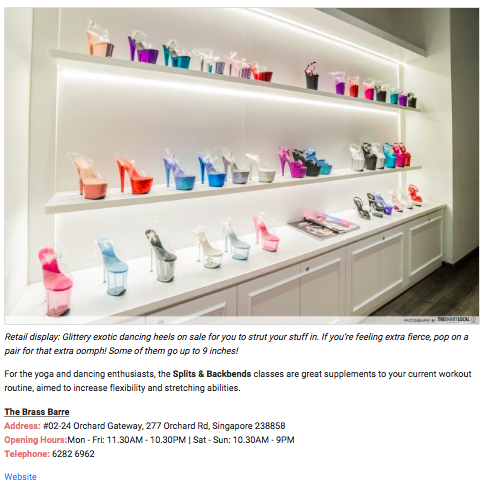 WHAT PEOPLE HAVE TO SAY ABOUT US!